Pirouette Window Shadings
Uniquely designed with soft, horizontal fabrics vanes attached to a single sheer, Pirouette® Window Shadings control light in an entirely new way. Gently pull on the operating cord, the fabrics vanes expand, beautifully filtering the natural light. Pull again and the vanes contract, providing a clear view to the outside. With 44 colours and fabric combinations, along with various vane sizes and opacity options, Pirouette® Window Shadings provides exceptional versatility in both function and style. It's the perfect finishing touch to any room in a home. Pirouette Window Shadings
• Unique design — soft horizontal fabric vanes attached to a single sheer backing allow for enhanced views to the outside and full beauty of the fabric appearance to the inside.
• Innovative operation — the revolutionary Invisi-Lift™ system suspends the soft vanes for variable light control and privacy.
• Versatile functionality — a single operating cord, hand-held Platinum™ remote or wireless wall switch allows shadings to be closed for privacy, adjusted for precise light control and view-through, or completely open by retracting into the headrail.
• Ultimate flexibility — flatten the vanes for a smooth, more contemporary finish, slightly raise the vanes for a gentle contoured look, or fully open the vanes to provide a clear view to the outside.
• Ultraviolet protection — the sheer backing reduces glare and filters harmful UV rays; blocking up to 81% of rays when vanes are open and up to 99% when closed.
• Seven beautifully textured fabric styles — Satin, Satin Metallic, Shantung, Angelica, Bamboo Flax, Cotton and Linen — and 65 color options.
• Semi-opaque and room-darkening fabrics in two vane sizes, 4″ Petite and 5″ Grande.
• Widths up to 120″ and heights up to 144″.
• Standard fabric-covered headrail and bottom rail create a unified look from top to bottom.
• Color-coordinated hardware and cords.
Choice of three proven lifting systems as well as the Two-On-One Headrail and specialty shape design options.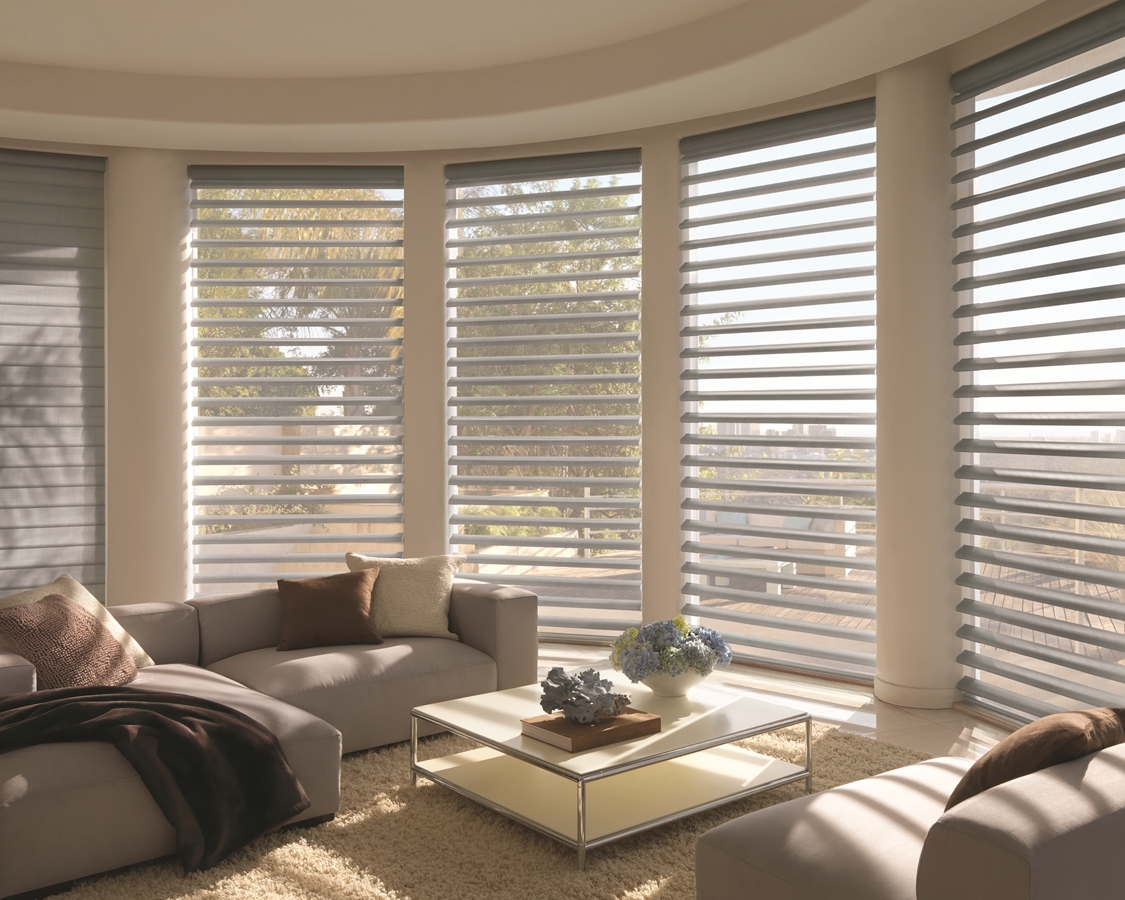 Luminette Privacy Sheers
Luminette Privacy Sheers provides a reliable system and comes in many fabric choices with 180 degrees rotating vertical fabric vanes. Diffuse harsh lights with beautiful sheer fabrics, yet controlling the right amount of natural light that you want.
Sheer 100% polyester fabrics.
Evening Star® fabric is an opaque fabric that provides a room-darkening effect in four fabric styles.
Fabric vanes rotate for desired amount of light and privacy control.
Innovative wand and cord controls all functions.
SofTrak™ scissor headrail system assures easy, reliable operation.
Neutral white fabric vanes present uniformed look from outside of the home.
Side stack or split stack is available.
Counterparts® programs with Silhouette® window shadings and Vignette® Modern Roman Shades are available.
100% polyester fabrics are very durable and easy to clean. « Evening Star blocks 99% of the light coming into a room.
Luminette® Privacy Sheers can be rotated to direct light or traverse to fully open or closed.
The controls are all in one easy-to-use wand, eliminating several cords.
The SofTrak™ system is a proven system that is very durable and reliable.
The neutral white fabric is a uniformed look from the outside of the home. This is becoming more and more mandatory in HOA.
Flexible opening and stacking on a window. Determined by the window (for instance a patio door might have a one-way stack).
Accents by the Yard™ allows a customer to order cut yardage of Luminette fabric, giving the customer a unique decorating option.
Luminette fabrics coordinate with several Silhouette® and Vignette® fabrics, using the Counterparts® program to complement shadings for vertical and horizontal windows.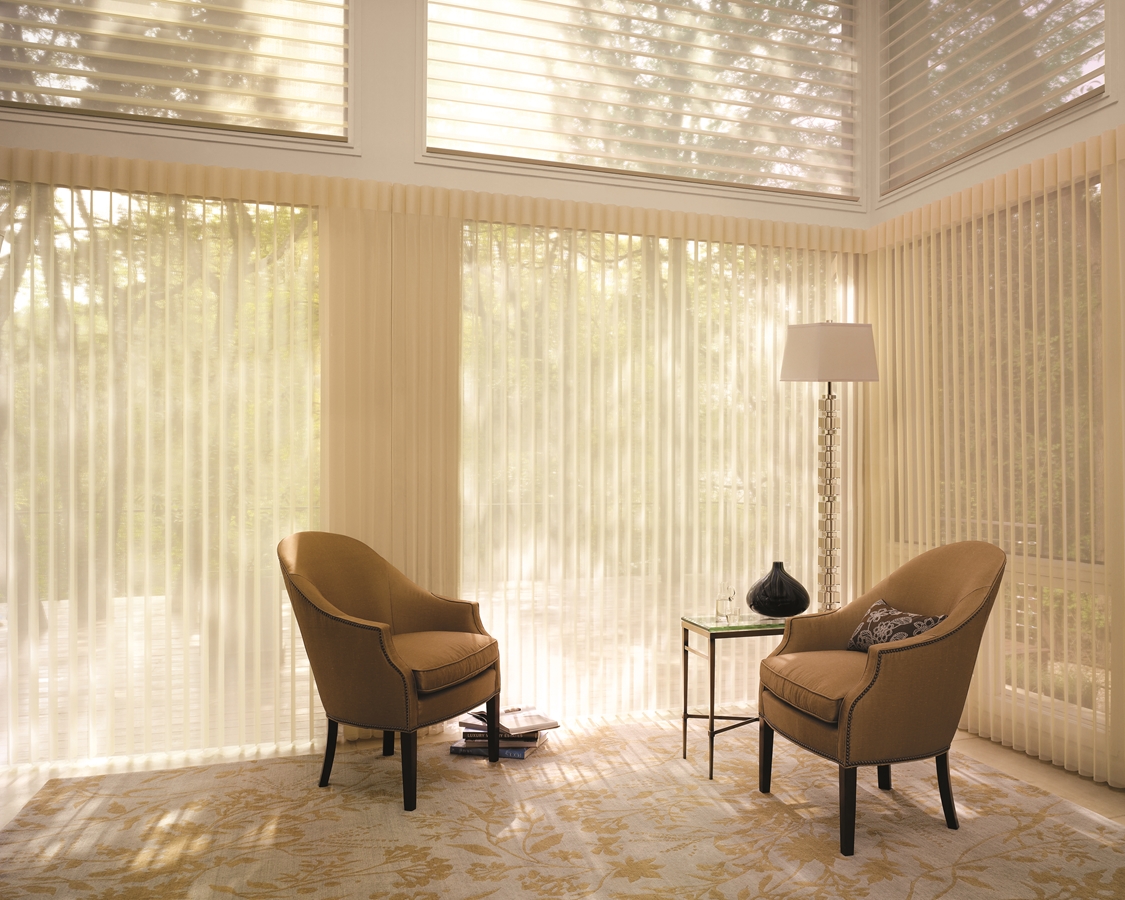 Silhouette Window Shadings
Comes in a choice of 2", 3" and 4" vane choices to suit the diffusion of light in a room you desire in a room. A unique construction of different fabrics opacities which allow you to choose from transparent to semi opaque or light dimming fabrics. Comes with an ™ lifting system with continuous cord loop disperses the weight evenly across the shading, making even the largest shading easy to raise
Choice of 2″, 3″ and 4″ vane sizes.
Silhouette® shadings can now cover windows up to 120″ wide by 120″ high.
EasyRise™ lifting system is standard.
Different fabric opacities provide light and privacy control.
Soil resistant and anti-static fabric.
The Palette™ fabric-covered headrail.
Counterparts between Silhouette window shadings and Luminette® Privacy Sheers.
Three vane sizes allow choices of scale and view-through.
EasyRise lifting system with its continuous cord loop and clutch system makes it easy to lift even the largest shadings.
Fabric vanes suspended between sheer fabric facings with different opacities for light control and privacy.
Wide variety of colors and fabrics to fit any room decor.
Silhouette fabric has an anti-moire patent that is proprietary to Hunter Douglas. The weave on the sheer front fabric facing is different than the weave on the rear facing, thus eliminating any wavy motion a person would otherwise see when looking through the shading.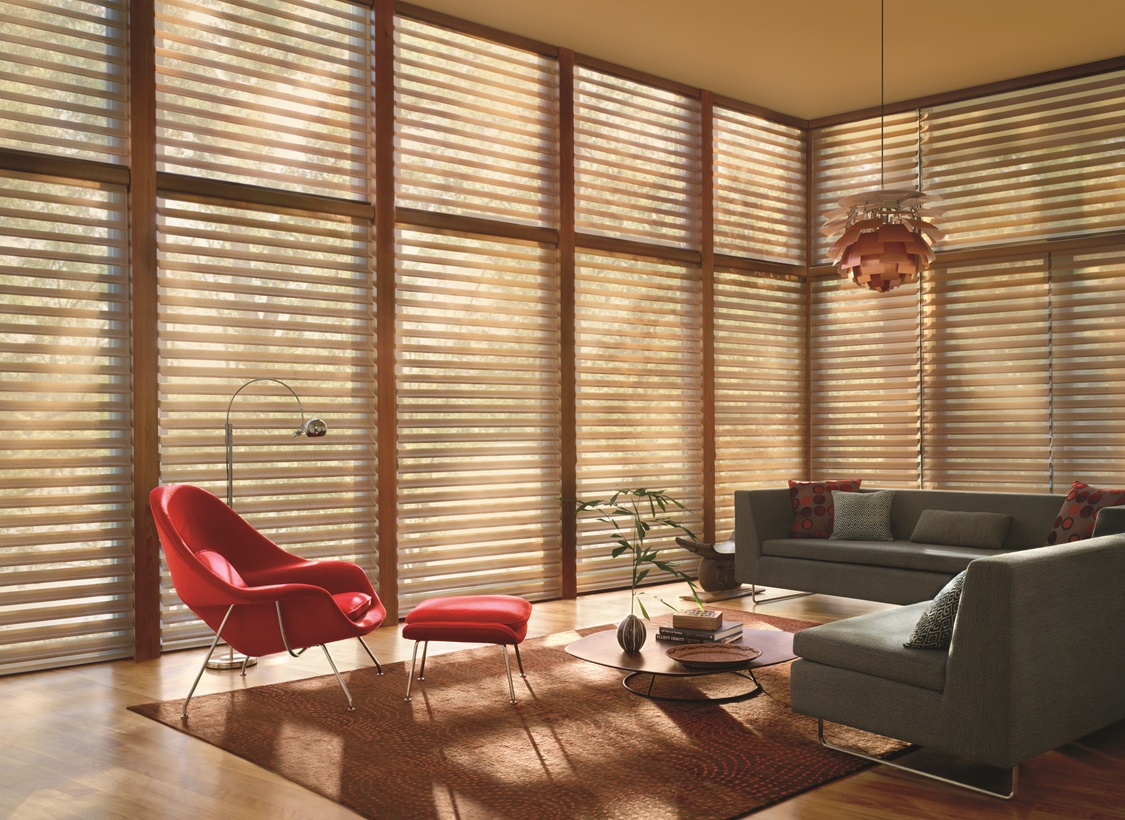 The Curtain Boutique is a leading Singapore Curtains & Blinds supplier. We are proud to be an authorised gallery dealer of Hunter Douglas products. Contact us today at enquiry@tcb.com.sg to find out more.