[jeg_heading type="h3″ float="center" title="Ecoview plus"]
Made of fiberglass coated with PVC which best suit indoor spaces with vast windows. In rooms where usage of computers are regular, Ecoview works best to reduce the level of glare from windows. At the same time, it allows natural light into the room for occupants comfort.
Modern design and colours
Solar optical properties – heat and UV protection, insulation, glare reduction and shade
Stability in fabric – material does not shrink, stretch or twist
Allows certain level of daylight privacy
Fire resistant
UV resistant
Resists fading
[jeg_heading type="h3″ float="center" title="Greenscreen"]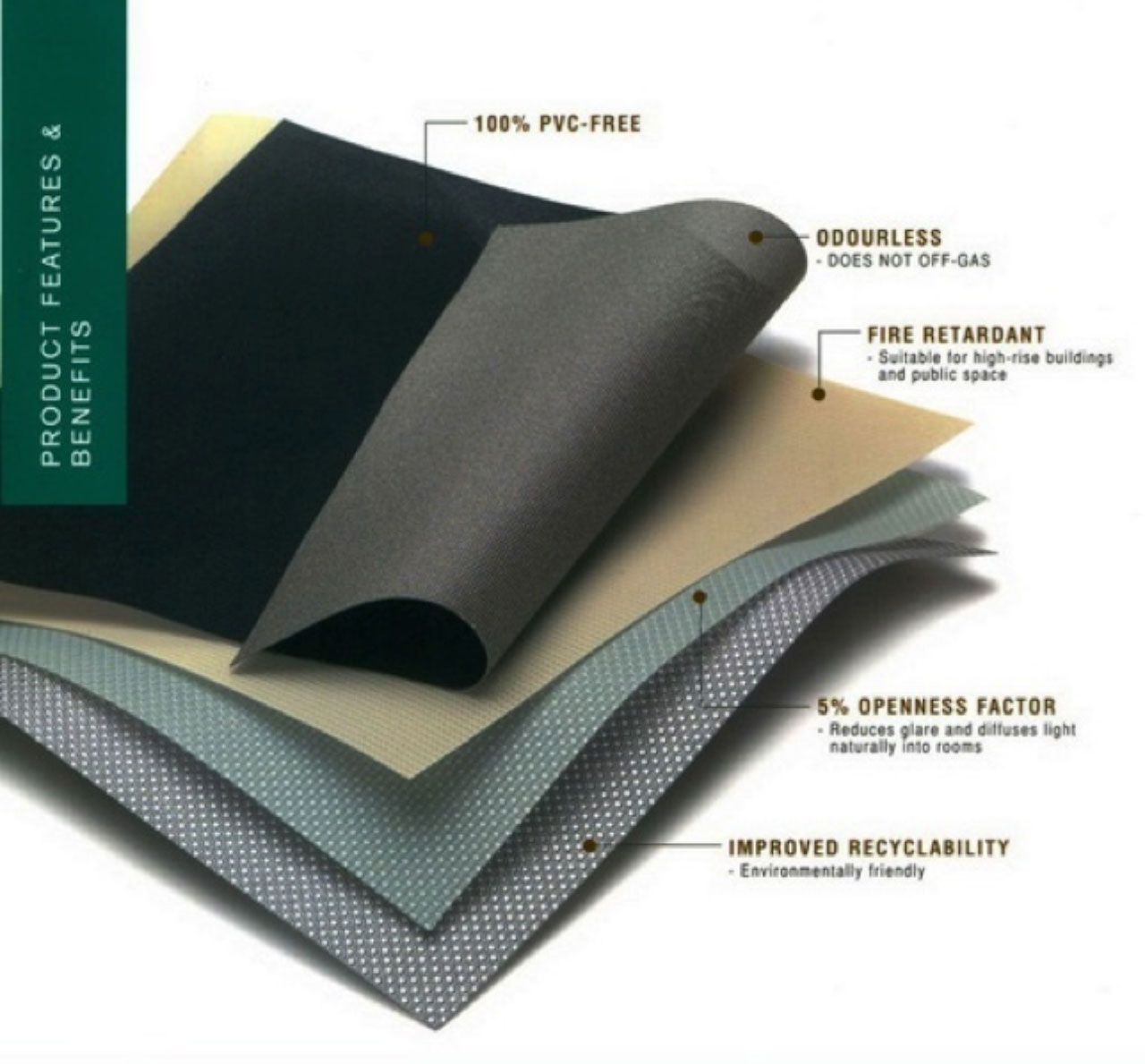 100% PVC free, Greenscreen is an environmental friendly product that can be easily recycled. It does not emit thick amount of smoke when burnt, allowing occupants to make their way to safety during emergency.
INTERIOR SHADES
Greenscreen Eco
This eco-friendly range is lightweight with 100% Polyester material, making it suitable for interior shadings.
[jeg_heading type="h3″ float="center" title="Helioscreen"]
Solutions for both visual and thermal comfort, Helioscreen fabric structure allows in diffuse daylight, while blocking direct sun rays. At the same time provides outside view with its transparency. Made from fiberglass material, Helioscreen limits heat accumulation in interiors by blocking up to 50% of solar light.
INTERIOR SHADES - Star2115, Natte2115
Internal shading that offers a combination of heat and light control that allows in the right amount of light and blocks away harmful rays and heat.
INTERIOR SHADES - Panama 5
Made of smooth and lightweight materials -PVC Coated Fiberglass which provides good value in both commercial and residential usage.
Comes in 3 openess factor – 3%, 5 % and 10%
EXTERIOR SHADES - Serge 2165
Designed to perform in building exterior, this window shade works best to allow in light but blocks off the heat from the sun. Serge 2165 provides the best quality in Helioscreen range.
[jeg_heading type="h3″ float="center" title="Optimascreen"]
A new technology in Sunscreen products – Optimascreen™ is made up of polyester coated with PVC, offering more than 50% indoor energy saving and also antibacterial effect against mold and virus. This new innovation in window coverings is safe for usage indoors. One will also be able to enjoy a good view of the outdoors whilst staying protected from the harmful solar heat.
Passed EU EN713-3 in Endocrine distruptor
Safe to infants
Passed NFPA 701-89 small scale testing (US) & Korea
Fire Equipment Inspection Corp 06-03 (KFI)
Suitable for high rise buildings and public spaces
Passed Smoke Density Test
Low smoke emission ensures occupants safe escape during fire disaster
Passed the most crucial standard for human safety – ISO 5659-2 (less 200)
Effective in reducing glare and reflection
Diffuses light naturally into rooms through the fabric weaves
Passed Oekotex Standard 100
Free from heavy metal hazardous substance
Free of Lead (PBB and PBDE)
Does not contain Formaldehyde (a form of toxic additive)
Low Volat from unpleasant smell
Low Volatile Organic Compound (VOC) makes Optimascreen free
Prevent from Discoloration
High quality material that prevents fabric to turn yellowish or reddish from long term exposure to solar heat or ultra violet rays
Thermal Comfort and Energy Saving
Significant savings in air conditioning energy and cost
Improves overall thermal comfort
Long lasting antibacterial effect
Verified by Huntingdon Life Science
Passed acute toxic test, skin response test, bacterial reverse mutation test and antibacterial test against mold and virus
The Curtain Boutique is a leading Singapore Curtains & Blinds supplier. We are proud to be an authorised gallery dealer of Hunter Douglas products. Contact us today at enquiry@tcb.com.sg to find out more about the Hunter Douglas range we carry.