Venetian blinds are one of the most popular window furnishing choices in Singapore homes for its stylish look and versatility in light control. Venetian blinds come in different materials, such as aluminium, PVC and wood. Here are the different materials explained:
Aluminium Venetian Blinds
Aluminium is extremely popular due to its durable, economical and resistant qualities. It comes in a wide range of colours and finishes to complement any interior style. Another advantage of aluminium blinds is that they are effective reflectors of sunlight and heat. You can also go for slats with micro-perforation for a subdued atmosphere when the blinds are closed.
PVC Venetian Blinds
PVC is highly durable and will not fade, crack or warp, making it a good choice for humid areas such as kitchens and bathrooms as well as for high traffic areas. If you prefer the look of wood in humid areas, go for PVC faux wood venetian blinds that gives you the natural beauty of wood with all the practicality of PVC. They look authentic and come in a wide range of colours. PVC Venetian blinds are also slightly more affordable than real wooden blinds.
Wooden Venetian Blinds
Wooden Venetian blinds are preferred for its sophistication and the luxurious effect it creates. Real wood blinds offer the natural, warm and elegant feel to suit more traditional or grand interior styles where cheaper alternatives like PVC may look out of place.
Wood blinds are highly versatile! They come in various shades and can be varnished or stained to fit any décor or to match other wooden furniture. It provides excellent insulation and protects furniture and art from deteriorating in sunlight. However, wooden blinds should be avoided in any humid areas as the wood will absorb moisture and eventually warp.
Now that you know more about the 3 materials for Venetian blinds, here are some tips on which to choose for each of the rooms in your home:
Bedroom: Wood or Aluminium Venetian Blinds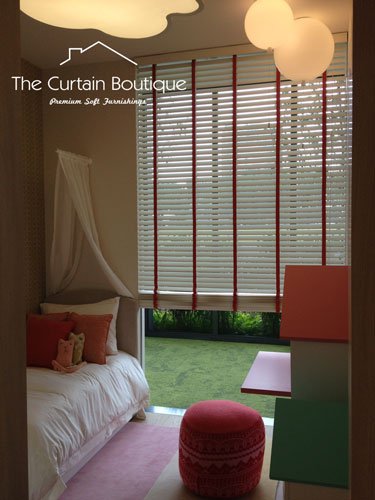 One of the main functions of blinds in bedrooms is not only to provide privacy, but also to help block sun glare and heat. Wooden and aluminium Venetian blinds are full-bodied to afford excellent privacy, and can also effectively block sunlight and reduce heat in the room.
Kitchen: Aluminium or PVC Venetian Blinds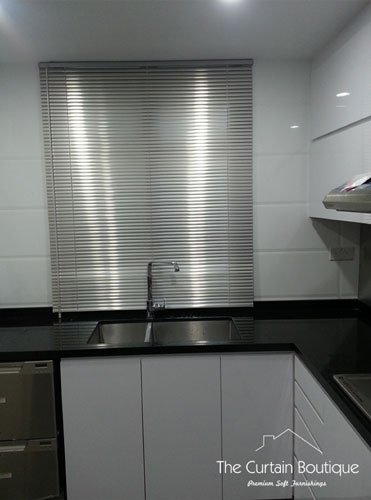 For the kitchen, go for a material that will not be affected by the moisture that can occur while cooking. Even boiling water can produce steam that will cause wood blinds to warp. PVC and aluminium Venetian blinds will be able to handle the moisture.
Bathroom: Aluminium or PVC Venetian Blinds
In the bathroom, your blinds may be exposed to moisture through the high humidity or direct water that splashes from the bath or shower. This makes PVC or aluminium suitable options. Both materials are suited for the humidity and are also mildew and mould-resistant unlike most fabric blinds.
Kids Bedroom or Nursery: PVC Venetian Blinds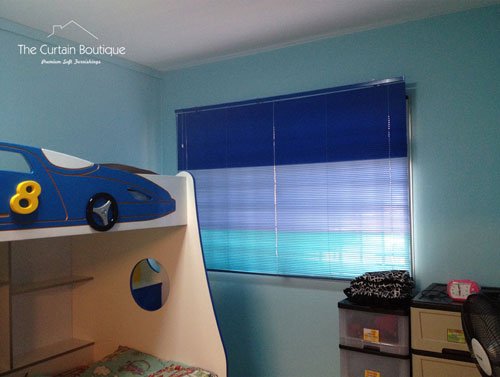 For a child's bedroom, safety comes first. Go for motorised cordless blinds as cords can be a choking hazard for young children. Durability is also a key factor in choosing the right blind material. PVC Venetian blinds are resilient and it comes in bright, fun colours that children will love.
We hope these general tips help you understand more about Venetian blinds! For more detailed advice for choosing blinds according to your individual needs and preferences, we recommend a quick trip to our showroom. Head down to The Curtain Boutique's Showroom, leading Singapore Curtain & Blinds supplier, to view and try out the various types of Venetian Blinds. Our experienced staff will help you find the right blinds for your home and lifestyle needs.
Free consultation:
[contact-form-7 404 "Not Found"]