If you have been reading any of our articles, you would know how much difference a curtain can make to a home. No matter how you look at it, textiles would still always play a huge and vital role in any interior. While there are people who choose to grab the cheapest off-the-shelf curtains, there are a selected few that wants the best that money can buy. In that case, no matter you are looking for chequered linen in an odd colour or curtains with an artsy nouveau motif, Acacia Fabrics is the choice for you.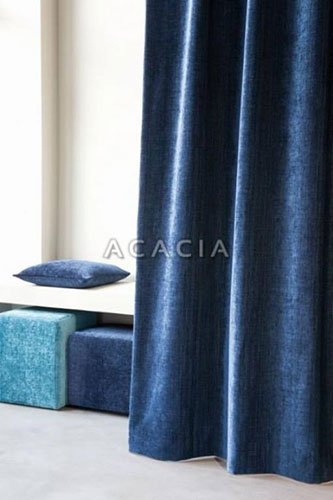 Acacia has over 19,000 inventory items and boasts premium fabrics from Europe. They offer 6 distinctively different sub brands and they all can be found at selected boutiques across South East Asia.
Established since 1994, Acacia Fine Fabrics which headquarters are in Kuala Lumpur Malaysia, recently opened their brand new warehouse/office that spans over 70,000 square foot to house their extensive fabric range. They have over the years built a name for themselves and is today, the go-to-brand for premium quality fabrics and textiles.
So what makes Acacia so special? What benefits does Acacia Fabric offers? Here are 5 reasons why you should choose Acacia.
Acacia Fabrics are Lasting & Quality 

Guaranteed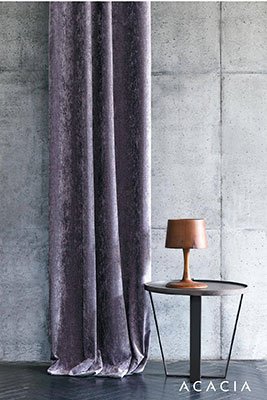 Acacia Fabrics offer the absolute TOP quality fabric money has to offer. But what really defines quality and how do one be sure that they are purchasing the best?
The answer? Testing. Rigorous and trusted testing.
Every colour in the Acacia Fabric collection is tested against international standard, Martindale & Wyzenbeek. Martingale is an internationally recognised standard of testing where the strength of yarns are tasted by rubbing it against another piece of Fabric in various loops and directions over 20,000 times. The Wyzenbeek on the other hand, tests Acacia Fabrics by stimulating the effects of going in and out of your Sofa through 50,000 double rubs.
On top of Martingale and Wyzenbeek tests, Acacia Fabrics would still have to go through another 9 different tests in their certified lab to ensure that consumers really only get the best.
Safety: Acacia Fabrics Protects You & Your family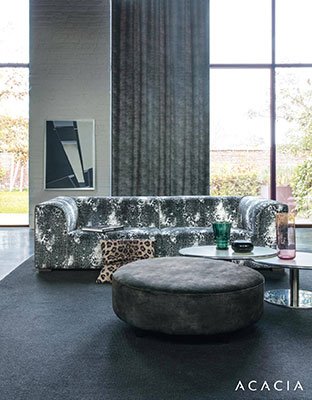 Safety and Fabrics aren't two words that is commonly used together in a sentence. But like how this guy in the Facebook video we posted who burned down his house with just a single matchstick, when a fire happens, fabrics are usually the first to catch and spread fire in your home with disastrous results.
That is why ALL Acacia Fabrics go through stringent fire retardancy tests such as American Standard NFPA 260 or the British Standard 5852.  (Watch the video below to see how Acacia Fabrics wouldn't catch fire even when exposed to a burning cigarette)
Acacia Fabrics Don't Fade Even under Direct Sunlight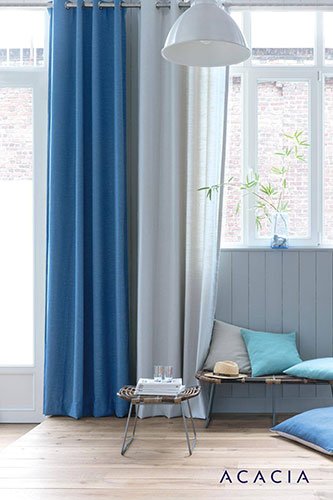 When choosing Fabrics, the wear over time can be a major concern by homeowners, that the color you initially chose started fading and changing colour after several months/years. No such concern with Acacia.
Colour Fastness of Acacia Fabrics are also tested against both rubbing and light. In testing for colour fastness to light, Fabrics are exposed to 150 hours of UV radiation, which is the equivalent of 10 years of direct sunlight.
In testing for colour fastness to rubbing which is an issue for cheaper alternatives that might result in the colour fading onto your clothes, coloured Acacia Fabrics are tested against a neutral fabric, both wet and dry, and are only accepted if they are graded 4 out of 5.
Matching your curtains with your cushions and chairs with Acacia Fabrics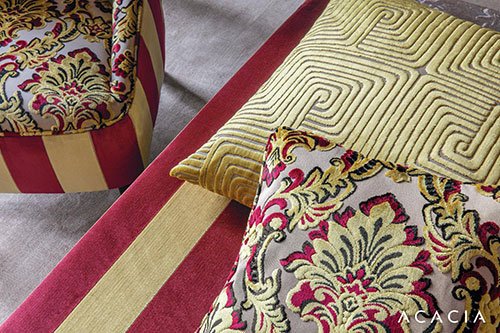 One of the most common problems that homeowners face when designing their new/existing home is trying to match their curtains with their cushions. Because both curtains and cushions take up such a big space visually, it is paramount that these 2 match each other so that your home doesn't feel messy and out of place.
But the truth is that it is often easier said than done. When you get your curtains and cushions seperately off the shelve, the colours never seem to match. Even similar colours would be in different shades, patterned and fabrics with designs would almost be impossible to complement each other.
With Acacia Fine Fabrics, you can not only apply the textiles for your Curtains, but also use the same Fabric for other purposes such as wall coverings, drapes, ottoman, throw pillow etc.
Choose Acacia Fabrics for your kids, for the environment, for the world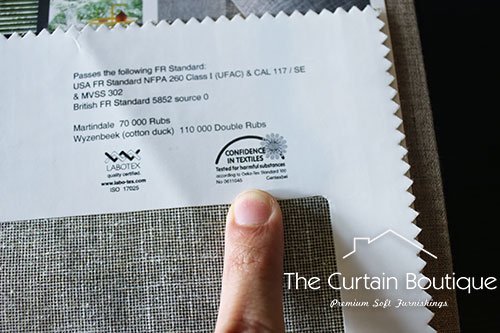 As we have mentioned in our 5 methods to ensure that your Curtains and blinds are Child safe article, an often overlook factor is how safe are fabrics for our children. Coloured dyes are afterall chemicals and by exposing them to direct sunlight overtime (which is what curtains are meant to do), may result in certain chemical reaction that might release harmful and unhealthy substances.
All Acacia Fabrics go through third party international certification by Oekotex 100 which ensures that the fabrics are not only safe for humans but for the environment as well.

The Curtain Boutique is a leading Singapore Curtains & Blinds supplier and we are proud to be an official distributor of all 6 sub brands of Acacia Fabrics. Head down to our showroom today at 81 Ubi Ave 4, UB One, #01-17, S3408830 to view our extensive range of Acacia Products. Feel the difference and indulge in the best Fabrics that money can buy.