13 years ago, the parents of Gavin Walla experienced something no parents would ever want to encounter.  While filming her other two other kids, Nicky Walla (the mother), suddenly realized that the then 4 year old Gavin was being silently strangled by their window cord.
The worst part?  Because there was no sound nor any hint of him being strangled, she was seemingly oblivious to the happenings initially even when she turned her camera over. It took her roughly 1~2seconds before she screamed in fear and rushed to save him.
Gavin fortunately survived but many other kids are not so lucky. Since that incident, there has been an estimated number of over 100 American children who have died from strangulation after being caught in similar window blind cords incident. Experts say it takes approximately less than 1 min for a child to suffocate and cause permanent damage or in the worst case, death. And because there is usually no sound or prior signal, some kids have even died WITH a caretaker present in the room.
When most parents think of baby-proofing their house, Curtains & Blinds are not usually the first thing that come to mind, but that oversight could potentially result in a catastrophic disaster.
Babyproof  & ensure your Curtains & Blinds are child safe with any of these 5 simple methods
1. Opt for Fixed In Window Cords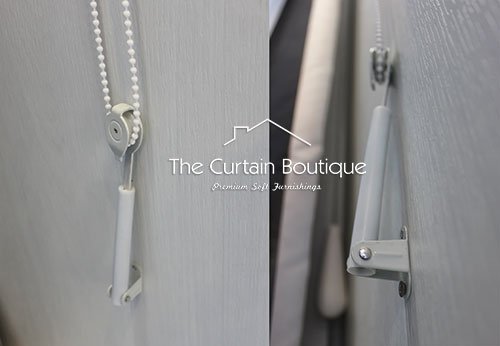 Fixed in Window Cords are when the base of the cords are locked and screwed into a permanent fixture. This would prevent the cords from dangling freely and avoid the hazard of having it twirl around your child.
2.. Choose Cordless Binds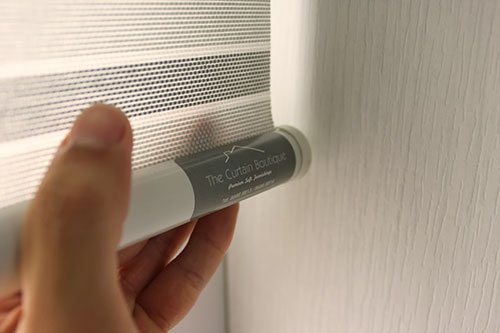 As the industry moves forward and child safety becomes a priority, The Curtain Boutique brings in state of the art blind technology that offers blinds without any cords. Yes, you heard us right, no cords! The blinds run on a spring system and a slight tug downwards would spring the blinds up without the use of any cords. To pull the blinds back down, there is a single cord at the side which is very short and reduces the possibility of strangulation. Also, because the blind is on a simple pull and release system, there is no upwards pull that would result in strangulation (*view the video below).
However, for parents who are on the safe side and absolutely do not want to have a cord, they can also choose to remove the string completely by opening the cap at the side.
3. Motorized your Blinds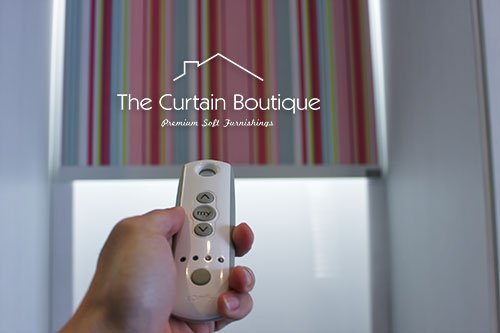 One of the best way to child safe your window blinds is to motorize it. Motorized blinds operate on a point and click system which is much like how we operate our TV. Motorized Blinds come with remotes and hence have no need for a cord. Motorized Blinds are by far the most popular option as on top of being child safe, it also provides your home with a futuristic touch.
4. Outdoor Roller Shades Protection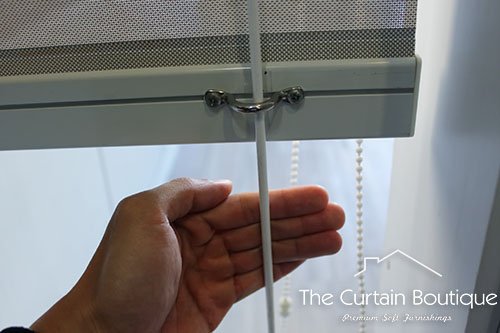 If you are using Outdoor Roller Shades, do also ensure that the side wind guide cable is properly wrapped up. Side wind guide cables are found at the back of your outdoor roller shades. These cables are attached to the ground to be better able to help support the roller shades from wind etc. But also because it's attached to the ground, it's subjected to be grabbed on by kids and toddlers who are looking for something to support as they struggle to walk. This might result in cuts and abrasions along the palms of your little one. As a leading Blinds & Curtains Supplier in Singapore, we at The Curtain Boutique always ensure that the side wind guide cable of our outdoor roller shades are wrapped with PVC for the safety of you and your little love ones.
5. Environment Safe Curtain Fabric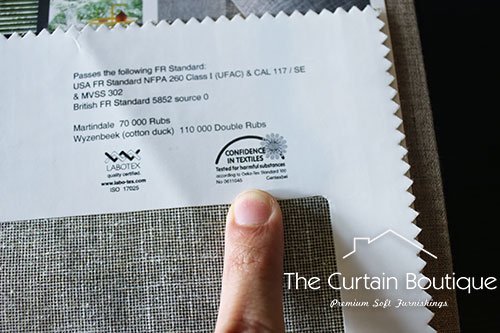 If blinds are not your thing and you prefer to go for Curtains instead, do check and ensure that your Curtain Fabrics are either Oekotex 100 Certified or Greenguard certified. What are they? They are independent 3rd party testing and research institutes that puts fabrics into all sorts of testing throughout the entire stage of production and ensures that the fabrics are both safe for humans and the environment. Much like how we use heat as a catalyst in our chemistry projects when we were younger, the heat from the sun does result in a chemical reaction for certain fabrics and overtime, it might release toxic substances that are especially harmful to children. When you use Oekotex or Greenguard certified fabrics, you can rest assured that your fabrics are made of human-safe materials and your child would not be breathing in toxins. The Curtain Boutique carries a wide variety of certified fabrics that you are almost guaranteed able to find something suitable for your home.

Spread the awareness and make your home's curtains and blinds safe for your little one!
Speak to any one of our experienced Curtain specialist today to learn more.