As floor areas of Singapore homes are rapidly shrinking, homeowners have to think of creative ways to increase the amount of usable interior space. Well, the balcony or PES (private enclosed space) is one area that can be enclosed to create a livable space!
After all, homeowners are still charged for their balcony PSF and it's such a waste to not use that area just because of Singapore's rainy climate. Unfortunately, getting past the URA (Urban Redevelopment Authority) Singapore regulations on enclosed balconies and outdoor spaces can be tricky as local authorities do not allow for a 100% enclosed area. A stylish, functional and URA-approved way to integrate your outdoor and indoor space is to use Ziptrak® blinds.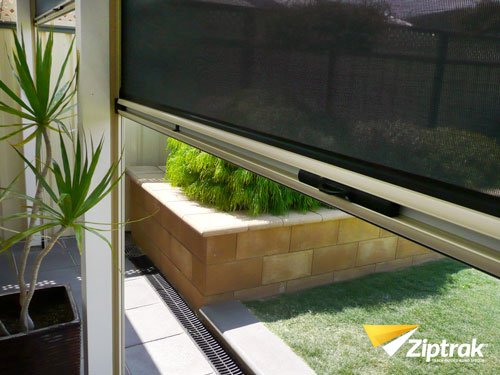 Unlike traditional blinds, Ziptrak® blinds are track-guided, so that the mesh or clear PVC material meets the track without any gap that makes an excellent shield; around the top, sides and the bottom of the blind, allowing you to fully enclose the area. The best part? Because Ziptrak® fabrics come in 1% openess , URA considers Ziptrak blinds as lightweight structures and allows the use of Ziptrak blinds as balcony screens.
Here are some of the things you can enjoy when you enclose your balcony with Ziptrak® blinds:
Additional space to turn into a functional room. If space permits, you can convert your balcony into a dining area or a cozy reading corner. The material can also drastically reduce the amount of air conditioning getting out.
Keep out flying insects. If your home is prone to invasion by mosquitos, flies and other pests, Ziptrak's no-gap system ensures they're kept outside.
Significantly less dust and haze entering the interior. Spend less time dusting and cleaning your home!
Maintain your view with privacy at the same time. Ziptrak® mesh material allows you to have a view of the outside while ensuring that neighbours can't peek in.
Block out strong wind while enjoying air ventilation. Ziptrak® blinds don't rattle even in the strongest winds. Its patented side spline (welded onto the both sides of the fabric) makes it one of the toughest system anywhere in the market. A wind loading test conducted by University of Adelaide found that a 2.5m by 2.5m Ziptrak® Sunshade was able to withstand winds of up to 130km/h. At the same time, it allows for fresh air ventilation.
Relax in comfort, with the blinds blocking heat, glare, noise and up to 99% of harmful UV rays. It meets the Melanoma International Foundation standard in effectively preventing Sun damage to the skin and eyes.
Have the option of having an open balcony in seconds. When the weather's good and you want to convert the space into an outdoor area again, simply push the Ziptrak® blind up and have it disappear into the pelmet.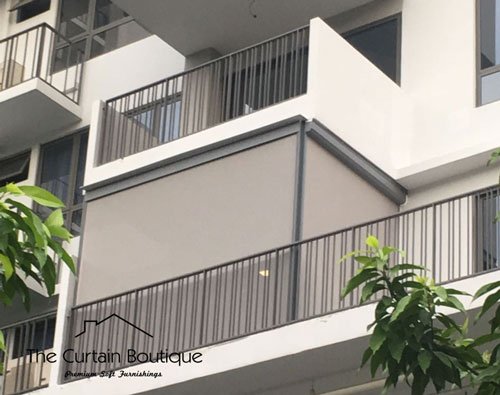 The robust, aluminum product is Australian-made and built to withstand years of rough outdoor conditions. The spring-balanced system allows you to pull it by hand easily and have it left at any height. Ziptrak® fabrics are also fire retardant and has antimicrobial protection infused directly into it to help prevent the growth of mold, mildew and bacteria. Ziptrak®'s fabrics and components also comes with 5 years limited warranty.
The Curtain Boutique, leading Singapore Curtains and Blinds supplier, is proud to be an official authorised partner of Ziptrak® here in Singapore.
Drop by our showroom to view and try the product for yourself firsthand.
The Curtain Boutique
Showroom: 81 Ubi Ave 4, UB. One #01-17, Singapore 408830
Monday~Sunday
10am~7pm
enquiry@tcb.com.sg
6846 1128