Air conditioning is blissful during extra-humid days in Singapore, but running it nonstop everyday will result in a nasty surprise when the electric bill arrives. Fortunately, strategic use of window treatments can help keep your house cool and reduce the need for air conditioning.
Use Heavy Curtains or Drapes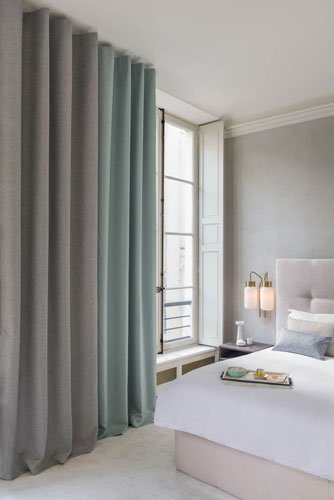 The fabric of curtains or draperies create an extra layer of insulation through the window. Thick, dense fabrics are the most effective in absorbing heat from the sunlight. Install double layers of full-length curtains, one day and one night curtain, as close to the window as possible to trap air. Mount your curtains beyond the width of your window to ensure hot air doesn't seep through the sides. Generally, white and other light colours work best for reflecting sunlight.
When you leave home for work, remember to close the curtains to prevent the afternoon sun from heating up your room throughout the day.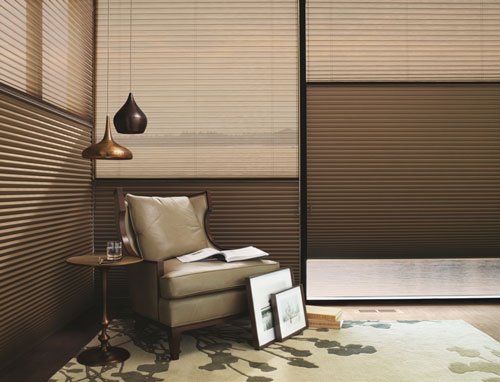 The Honeycomb structure creates an insulating pocket of air in each cell that separates the window air from the room air, significantly reducing sunlight and radiant heat from moving into the room.  Honeycomb shades will keep your room cool while letting light brighten the room for daytime use.
The Duette Architella® shades by Hunter Douglas with three distinct air pockets has the highest energy-efficiency rating for honeycomb shades in the industry. The Curtain Boutique is proud to be a vendor of Hunter Douglas products.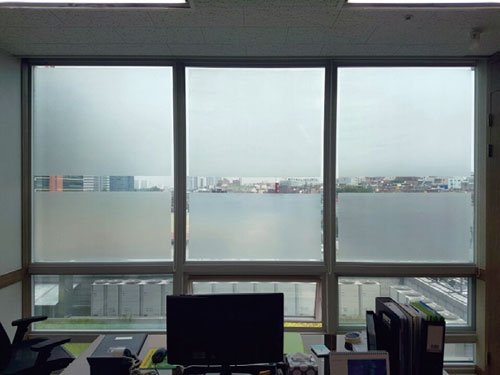 As sunlight hits a piece of glass, the window film acts as a sunscreen to block up to 99% of UV rays while reducing the amount of heat, light and glare entering the room from the glass panels.
For a more affordable option, go for SunShield, a DIY roll-on window film that has the same benefits as professionally installed window film, now available at The Curtain Boutique Showroom.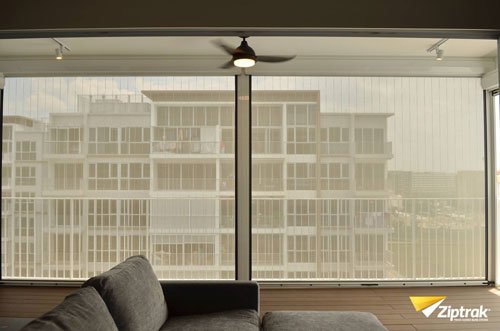 Cover your balcony with Ziptrak® blinds which reduce heat and block up to 90% of harmful UV rays, meeting the Melanoma International Foundation standard in effectively preventing Sun damage to the skin and eyes. The Ziptrak® system leaves no gap at the sides of the blind, creating a partially-enclosed balcony and letting you enjoy air ventilation and a view of the outside.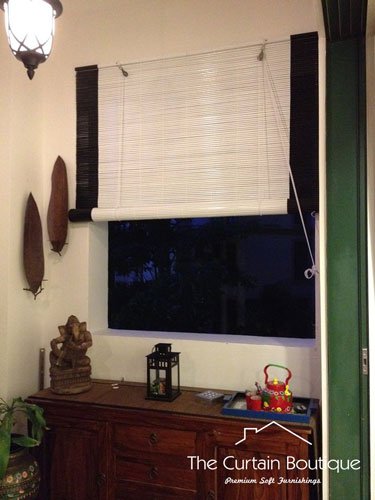 Another solution for heat coming from the balcony or patio is bamboo blinds! The wood is sourced from real bamboo, which makes bamboo blinds extremely durable and moisture-resistant. They are highly versatile and complement any interior style. Besides their aesthetic appeal, they help filter sunlight, keeping temperatures down. Don't think you'd be restricted to natural wooden colours, bamboo blinds are also available in colours like white and black that will match any interior theme!
All the above mentioned window treatments are available at The Curtain Boutique, leading Singapore Curtains and Blinds provider. We provide a premium range of curtains, blinds, wallpaper and more! Visit our Showroom at 81 Ubi Ave 4, UB One, #01-17 Singapore 408830.
Opening hours:
Mon to Fri: 10am – 9pm
Sat & Sun: 10am – 7pm