As per every other thing in the market, there are always the high priced premium goods and theres also the much cheaper and affordable option. But also as per every other item out there, not all Curtains are made equal. Afterall, if you really wanted to just block sunrays from entering the home, you could just use towels or even a black thrash bag to basically do the job.
So what is it about curtains and what should consumers actually be looking out for?
It can be a daunting enough task just buying a new home and to purchase curtains when you know absolutely nothing about it can make it even more stressful. So we have helped you put together 5 Things to ask your supplier before you actually commit to buying the curtains.
1. Country of Origin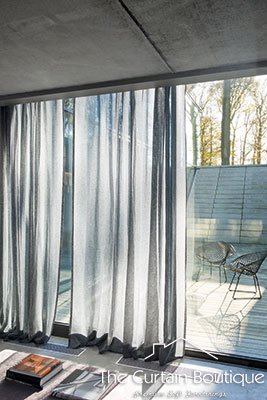 The biggest price difference factor probably comes from the Fabric's country of origin. While there are cheaper sources, certain Fabrics such as Acacia comes from Belgium and various parts of Europe. These fabrics generally are not just aesthetically more beautiful, but are also largely more lasting than most because of the way the fabric is produced. There are many methods of weaving and knitting, and better quality materials goes through a more stringent Quality Control process.
Before purchasing your Curtains, check with your supplier on the fabric's country of origin and whether it is from a trustworthy source. Often, it is more economical in the long run to purchase something of a higher value but is more lasting, as compared to getting something at a cheaper value but having to replace it every couple of years.
2. Greenguard/ Oekotex Safe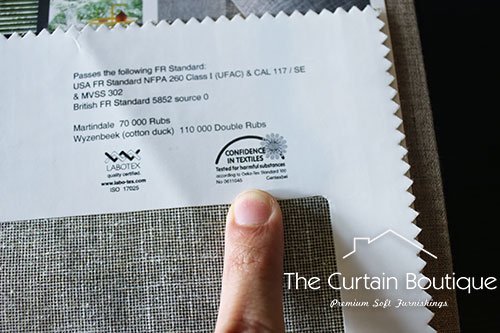 Remember how when we were doing Chemistry in school and how we often use heat as a form of catalyst to spark a reaction? Well, think of just how long your curtains face the sun everyday and the possibility of  the heat from the sun causing a reaction on the fabrics of your curtains. As mentioned in our 5 methods to ensure your curtains & blinds are childsafe article, the heat from the Sun might have the potential to cause a chemical reaction on your fabrics and result in the release of harmful gases that you and our family members breathe in.
Ask your supplier for Greenguard or Oekotex Safe fabrics for your curtains. These 3rd party certification and testing companies asseses the use of potentially harmful substances in textile. Any fabric that passes and obtains the  Oekotex 100 certification represents that the fabric is safe and not harmful for human kind and not for the environment.
3. Reputability of the supplier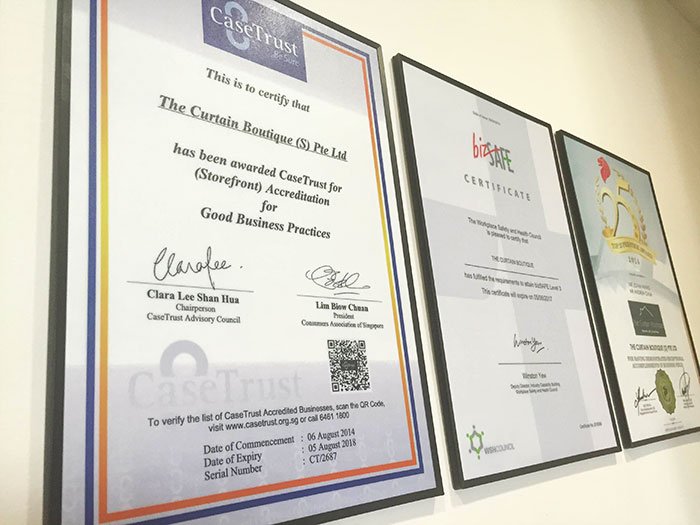 We recently shared an article on a local couple who got caught in a fix after paying a SG$63k advance only to have the renovation firm go into financial debt. As extreme as that particular case was, the threats of companies closing down, running away or even be involved in unethical selling techniques can be very real.
But the issue arises when every and any supplier would always tell their consumers just how reputable they are. The trick is to not just take their word for it but look for other 3rd party certifications on the supplier's creditability. Certifications such as CaseTrust and BizSafe are a good representative of the supplier's reliability and trustworthiness.
4. Warranty
While no suppliers would issue an warranty for the fabrics itself, mechanisms that work around the curtain can occasionally be more costly than the fabric. Mechanisms such as the rollers, pulley, curtain tracks, motorised systems etc. Before you purchase your curtains, check on the after sales warranty and how long does the warranty actually last. This is of course in line with our previous point about the reputability of the supplier as the warranty would not be worth much if the company has already since closed down.
5. Fabric Material

These are the 3 most common materials use for curtains, check out their features and characteristic as follow:
i) Cotton
Cotton is made from seeds from the Cotton Plant.
Cotton Strengths:
Soft & Comfortable touch
Good absorption of moisture
Easy to manufacture
Bio-degradable
Easy care, can be ironed at high temperature
Mothproof
Good wear resistance
Cotton Weakness:
Colour fastness to light is borderline
Low elasticity
Creases easily when handled
High Shrinkage and creasing after wash
Not mildew resistant
Higher water use during production process relative to synthetic fibres
ii) Polyester
Polyester is chemically engineered from a derivative from petroleum (PET chips)
Polyester Strengths:
Good heat insulation
High Strength
High elasticity
High resilience
High wear resistance
Good colour fastness to light
Good resistance to heat and light
Easy care and easy drying
Mothproof
Mildew Resistant
Polyester Weakness:
Electrostatic
Affinity to oil and grease
Difficult to Dye
iii) Linen
Linen is made from the bast fibre of flax plants.
Linen Strengths:
Luxurious look and prestige
Good absorption of moisture
Bio-degradable
Easy care, can be ironed at high temperatures
Mothproof
Stronger than cotton
Linen Weakness:
Color fastness to light is borderline
Creases easily when handled
High shrinkage and creasing after washing
Not mildew resistant
High water use during the production process compared to synthetic fibres
Sensitive to chemicals
Deterioration due to sunlight is possible over time
Reacts on atmospheric conditions (humidity, temperature etc)
The truth is this, there are many different kind of fabrics and curtain suppliers in the market. But much like how bedsheets have different range depending on the thread count, design, material etc, it' the same for curtains and curtain fabrics.
There are cheaper alternatives that might shrink tremendously after wash and some with colour that would fade after some time. This all depends on the quality of the fabric and because once again, not all curtains are made equal.
The Curtain Boutique is a trusted Singapore Curtains & Blinds supplier that has been accredited by CaseTrust and has obtained both BizSafe level 3 & ISO 9001 certification. We offer various range of fabrics from around the world and provides after-sale warranty of at least 1 year for our mechanics.
Contact us at enquiry@tcb.com.sg or speak to any of our agents through our live chat during office hours to find out more about getting curtains for your home or office.