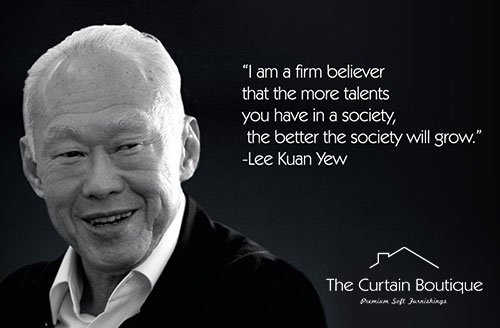 "I am a firm believer that the more talents you have in a society, the better the society will grow" – Lee Kuan Yew
And in his vision of what Singapore was to be, we built one of the greatest country in the world without even having any form of natural resources. All that done through strategic and diplomatic commercial relations.
So to celebrate Singapore's 51st year of Independence and how far we have come over the years, The Curtain Boutique would be having a Sale Exclusively for Expats who are living in Singapore.
Unlike back in your home country where you probably have four seasons, Singapore only has 2; Extremely hot or Pouring Wet. So to help you acclimatise to our local weather and combat the unforgiving sun, The Curtain Boutique would be offering a 15% + 5% Discount Off ALL Curtains, Blinds, Wallpapers etc for Expats this National Day.
This Sale can be used for both your homes or offices.
Simply present your passport at our showroom at 81 Ubi Ave 4, UB One, #01-17, Singapore 408830 from 9th August to 31st August 16 and quote "Expat51" to enjoy this discount!
The Curtain Boutique is a Leading Soft Furnishing Company that specialises in providing Blinds, Wallpaper, Window Films and Curtains in Singapore. We are a Trusted and reliable supplier with accreditations from CaseTrust and have also been Officially Certified by BizSafe and ISO 9001. When it comes to Soft Furnishing, we are your premium and trusted choice.
Make use of this rare opportunity and visit us at our Showroom to find out more!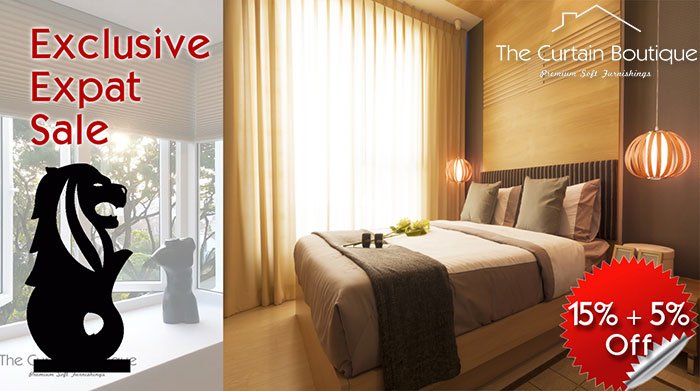 *Not to be used in Conjunction with other Promotions