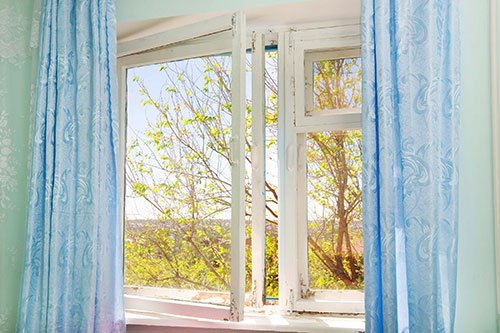 Singapore property prices are known to be one of the most expensive in the world. Any fluctuation in the market can easily result in a SG$50~100k difference in earnings for sellers. And if this UK study is anything to go by, aside from usual market trends and movement, your home's value would also be easily affected by your neighbour's curtains as well.
In a recent UK study, over 92% of UK property agents have stated that having bad neighbours can have a huge impact on the house values in the region. This includes noisy, unfriendly, messy exterior, unkept gardens, ugly Garden Gnomes etc. In their study, researchers have found that bad neighbours result in the house next door fetching around 8.2% lesser than it's actual market value.
Another factor that have been found to dramatically affect home prices are unattractive external building facades and fixtures such as stone wall claddings, faux tudor-style beams and yes, even unsightly furnishings such as curtains. On average, houses with visible furnishing of  "bad taste" fetch an average of 4.8% lesser.
Badly done DIY jobs and/or over use of messy extensions/cables on and around your neighbours house can also further decrease adjourning property prices by around 7%.
While all these numbers does seem relatively little, when you combine all of them together, it does add up to quite a substantial amount.
A lot of these numbers has got to do with the fact that we are humans and property agents/sellers often forget that.
From a buyer's perspective, buyers are looking to buy into a home and not just a house. People want to buy a home that they can see themselves living in. They want to know who are their neighbours, if it matches their persona and if they would be comfortable and happy staying there. If they have kids, they want to be able to imagine their kids growing up in their new home, carefree and safe. Even if the property is a prime location, nobody wants to live next door to a serial killer. But because we often don't know who our neighbours are before we move in, we look for signs and clues of who they are through their homes.
According to the UK property agents that participated in this survey, one of the most commonly asked questions when buyers are scouting for property is "Who are the neighbours?". Because there is so little that we can do about our neighbours once we actually move in, people tend to pick and choose not just the property on it's own, but the neighbours that they want too.
So what can sellers do to increase their property value with this new found information?
Homeowners have to be tactful when trying to approach the subject of their neighbours' home's appearance. Nobody likes to hear that their hand chosen garden gnomes they imported from the states look unsightly or that their curtains are in fact tacky and old fashioned.
Start by offering to help them sort out their garden or at the very least, experiment loaning them tools to do so. Indirectly hint them by providing them with contacts of quality soft furnishing providers (*cough The Curtain Boutique *cough) to do up their home curtains/blinds.
To take it a step further, you can even gather all your neighbours and we would be glad to provide you guys with a bulk purchase discount. The Curtain Boutique is an Award-Winning Singapore Curtains & Blinds supplier that has achieved both BizSafe 3 & ISO 9001 certification. Our experience in the industry & dedication to quality have also seen us being officially accredited by CaseTrust.
With such quality assurance provided by The Curtain Boutique, you can rest peacefully knowing how your entire neighbourhood's Curtains/blinds would not affect your home prices. Email us today to know more about bulk purchase discounts.