Dear Friends & Family of The Curtain Boutique,
Please note that our TCB showroom would be closed this Saturday (11th Feb 2017) from 10am to 12pm for a private event. Business would resume as usual after 12pm and it would extend until our usual closing time of 7pm on Saturdays.
We apologise for any inconvenience caused.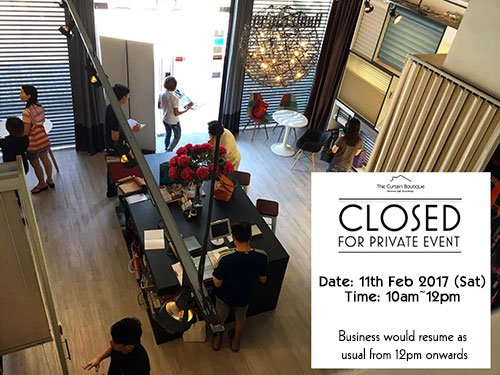 As weekends are our busiest times, we do suggest anyone who is intending to head down to always call in in advance to make an appointment to ensure that we have a sales person assigned.
The Curtain Boutique is an Award Winning Singapore Curtains and Blinds supplier that has established our name in curating beautiful soft furnishings for both homes and offices. If you wish to do up a bulk purchase event for you and your development to get exclusive bulk discounts off curtains, blinds, wallpapers, roller blinds, zip blinds etc, do drop us an email at enquiry@tcb.com.sg.