When it boils down to it all, what most consumers want from suppliers is really simple. Affordable products and a peace of mind to get things done without much hassle. But as we shared in our previous articles (Read also: Couple cheated SG$54k as Interior Design Frauds are on the rise in SG & Renovation firm uncontactable after couple paid SG$63k), having that peace of mind isn't necessarily easy.
Aside from Interior Design Firms, such unethical behaviour seem to have spread across into Singapore's furnishing industry as CASE recently alerted consumers to 2 new Furniture Suppliers; Modern Living Furnishing & Contempo Art of Living.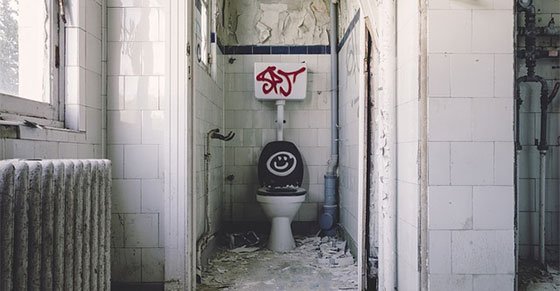 The Consumer Association of Singapore (CASE) alerted consumers to these 2 firms after receiving reports of both firms failing to deliver products in a timely fashion after collecting money.
The alert was raised after a series of complains were raised by consumers against both firms. In November 16 alone, CASE received 12 complains against Modern Living and 13 complains against Contempo Art of Living.
This has ruffled the feathers of many consumers in Singapore considering how both firms have established brand names and attractive showrooms within Singapore's prime areas.
When asked however, the Director of Modern Living claimed that the delay in delivery was due to a warehouse fire that blazed away their records. Director of Modern Living (Mdm Toh), explained that without the records, they were unable to contact customers even though they are able to deliver the products.
"I've been chasing them before Nov 2. I went to their shop and I've tried calling them, but they are not taking my calls", said the affected 38 year old banker.
Contempo on the other hand, has had it's registered address and showroom vacated since the incident. The company was too unreachable via phone.
What was extremely disturbing about Contempo was the fact that they were running "MUST GO Sale" and Christmas Sales on their Facebook page with over 11,000 followers all the way up till Nov prior to their disappearance.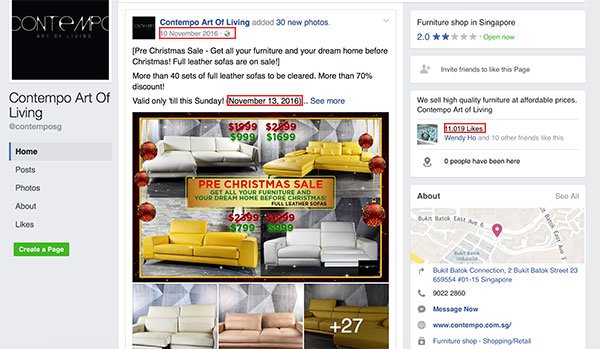 Affected housewife Loh Say Lee who has paid Contempo SG$2,000 in advance for Window Blinds that was supposed to be delivered by Nov 7th, never got her blinds and she hasn't been able to get in touch with the company since. "I didn't think too much about paying upfront because I thought I'd have to pay sooner or later," "I didn't think I'd be so unlucky", said the 48 year old housewife.
Other affected Netizens has even took it a step further and went ahead to seek out more information about Contempo Art of Living. Netizen Jessietan posted on local forum Renotalk:
"Hi there, 

All you Contempo Victims out there..Please note that ALL these companies listed below are under ONE BOSS – ALEX TAN – 97268668!

ARTMANI ITALIA / TRUE MATTRESS / ONE ITALIAN STUDIO / BEST SLEEP / BEST KOREAN LIVING / No.1 KOREAN BLINDS / WALL ART / CONTEMPO ART OF LIVING (Closed down)

Beware of this few companies out to SCAM YOU..take your deposit and open another new showroom!

Just like what happened in Contempo before he opened One Italian Studio"
In her post, she even looked into BizFile and presented proof of how Contempo Art of Living and Armani Italia is owned by the same person "Tan Chin Geok".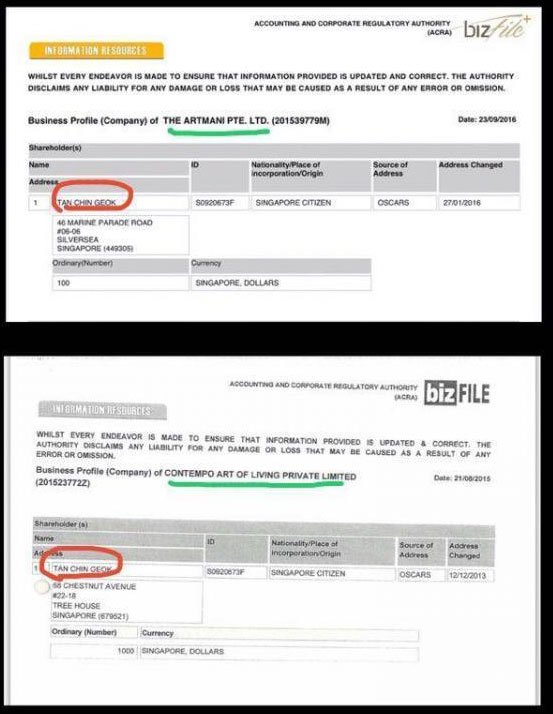 Her post has since gone viral with many other netizens chipping in on how they were similarly scammed by Contempo,  Armani Italia and One Italian Studio. One netizen even pointed out how all these Facebook pages use the same adverts for their promotion.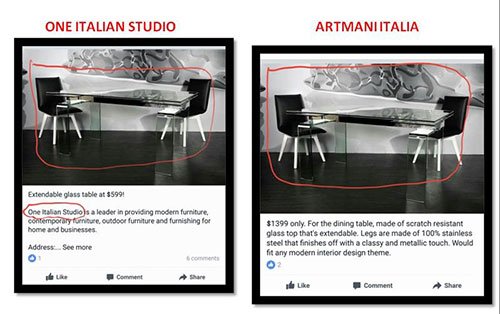 Seah Seng Choon, Executive Director of CASE, advice affected customers to file a report with the police or a claim with the Small Case Tribunal if they suspect that they have been involved in such fraudulent cases. Alternatively, consumers can call CASE at 6100-0315 if they require any help.
Regardless all which method you decide to undertake, it would still take some time for the claim to be processed and you most likely would still have to source for a separate supplier for the sofa, wallpaper etc that you were looking for in the first place.
If you are looking to furnish your home, do it once and do it right with trusted suppliers that provide you with the "peace of mind" in turning what you want into a reality.
The Curtain Boutique is a Leading Singapore Curtains & Blinds supplier. With over 10+ years of combined experience in the industry, our commitment to quality has seen us being the only Curtain Company to be Accredited by Casetrust under their storefront business category. We have also been officially certified by BizSafe Level 3 and ISO 9001 which represents the quality promise we provide to all our customers. No matter if you are looking for curtains, blinds, wallpapers, roller blinds, outdoor roller shades, zip blinds etc, The Curtain Boutique got you covered. Visit us at our 2 level showroom at 81 Ubi Ave 4, UB One, #01-17, Singapore 408830 from Monday~Sunday between 10am~7pm to find out more.
Share this article with your friends and family to warn them about these companies and ongoing serial scams.